ThouShaltNot Purchase
Our newest release, The Projectionist EP is available for just $8, shipping included! It and all the items on this page are available directly through the band via PayPal to smr71@pitt.edu or via check/money order/discreet cash to

Alex Reed
1203 Jamestown Road C2
Williamsburg, VA 23185

Our most popular album, The White Beyond, released by Dancing Ferret Discs is $11 directly through us (shipping included) or is available from Isotank and at Amazon.com.

The Holiness of Now has been remastered and is in print for the first time since 2001. Buy it directly through us for $11 (shipping included) or at either Isotank or Amazon.com.

Our sprawling EP You'll Wake Up Yesterday, featuring exclusive remixes, new tracks, and the now infamous "If I Only Were A Goth," is available from us for $9 (shipping included) and at Amazon.com.

Vier Factor, a split CD with four tracks apiece from ThouShaltNot, Cruxshadows, Paralysed Age, and The Dreamside, features exlcusive tracks and is $9 (shipping included) through us or can be purchased at Amazon.com.

Alex's solo EP Better Roads is also available for just $6, shipping included. Many of our songs can also be downloaded at the Apple iTunes Store. Download iTunes (for either PC or Mac) here.

Lastly, check out our t-shirts! Order your own ThouShaltNot t-shirt in either of our two designs -- one in support of our forthcoming record entitled Land Dispute, and the other with the classic logo: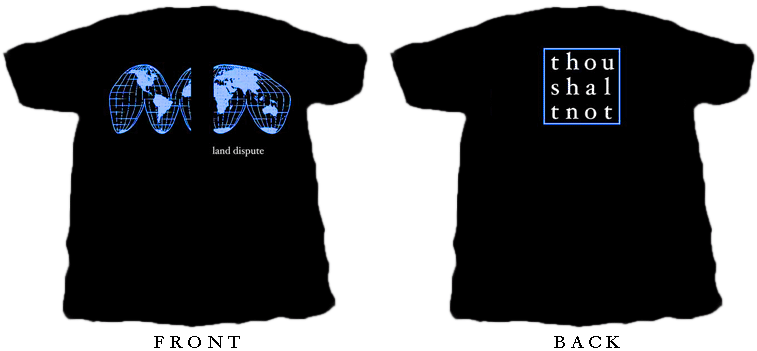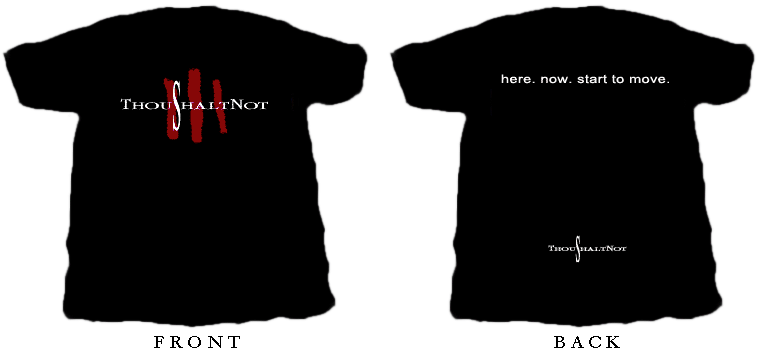 The Land Dispute shirt is available in S, M, L, XL, and Youth/Baby, while the classic shirt is available in S, M, and L. All shirts are $15, shipping included.