Sunday, July 24, 2011
A new surprise-release single, out TODAY! Go grab ThouShaltNot's excursion into steampunk, "The Haunted Phonograph" and its b-side, Iris's excellent remix of "Oh Invisible" now, only available digitally at ThouShaltNot's new Bandcamp page! Name your price! If you want to hear more music like "The Haunted Phonograph" be sure to pick up A Dark Cabaret on CD or as an .mp3 album, where the song gets its official release!
Saturday, June 25, 2011
First off, we have an official Facebook fan page now. Join here! The "musician" page that 900 of you have "liked" does little good; we cannot access it (we have tried, but Facebook is not interested in customer service).
Here are a few recent and forthcoming releases:
New song: "The Haunted Phonograph," to be released first as a digital single and then on Project Records' A Dark Cabaret 2, September 13, 2011. With a theremin and a full horn section, it is among the most fun songs we've made, and will be a sure steampunk anthem.
New mix: "Crawling Deeper (Soil & Eclipse's Culture Edit)" to be released on Synthetic Frequencies, Summer 2011 (still nailing down a date for this). This is a lush synthpop take on the song.
Beyond that, we have just reacquired the digital distribution rights to all our music. To celebrate this, we will soon be making (finally!) available the 2008 New World EP, and since its sound quality was a little shoddy, it's looking like we'll remaster it too. We'll keep you posted.
And finally, work is back in progress on the new album. It is called Madness and Extinction. We will not disappoint you.
Sunday, January 17, 2010
The new song "Sick" is now up on this site's mp3 player (which also appears on our MySpace page). It will be released next month on the Electronic Saviors cancer benefit CD on Metropolis Records, assembled by our very good friend, Jim Semonik. Support a good cause and pick up this amazing 5-disc set.
Also, thanks to all who came out to our special open rehearsal in Ohio last month. We're pleased to say that we've now recorded four songs for the next album ("Goodnight London," "The Eyes of Extinction," "The Haunted Phonograph," and "Decorate Your Scars") and are continuing to push forward for a 2010 release.
Friday, December 4, 2009
ThouShaltNot is in the process of recording our new album, and we are pleased to invite you to a special rehearsal/recital session, during which the band will, on piano, guitar, and drums, play through a whole set of brand new, never-before-heard songs (and maybe a few old favorites too). Fans will get the chance to comment and vote on songs, giving their input into the new ThouShaltNot material as we sculpt the album. This is a one-time only opportunity for an intimate performance. It will happen next Saturday night, December 12, in Granville, Ohio (45 minutes east of Columbus). Seats are very limited. Reserve yours with a $20 PayPal payment to tsn@thoushalt.net.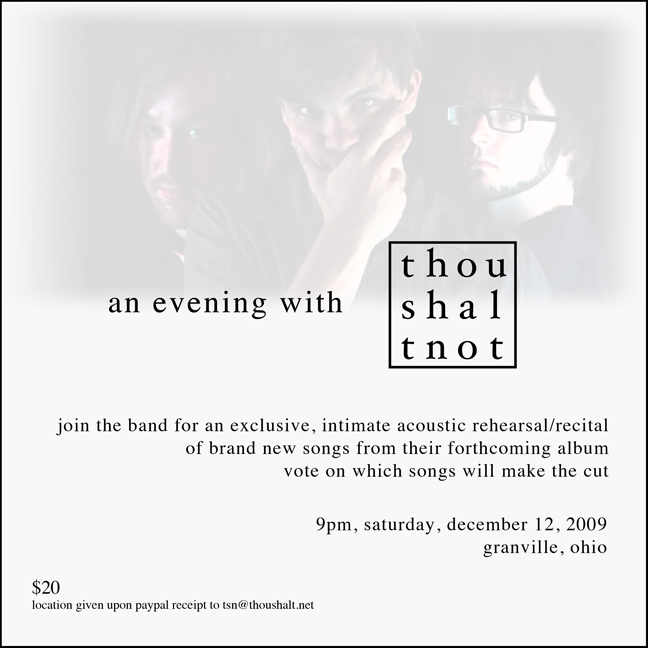 Additionally, ThouShaltNot are releasing their first new track since 2006's Land Dispute. The ballad "Sick" will be appearing on the Metropolis Records compilation Electronic Saviors, a 5 CD benefit album for the Foundation for Cancer Research and Wellness, organized by the band's longtime friend, DJ Hiem (who himself beat cancer last year).
The compilation is a virtual Who's Who of industrial music. In addition to ThouShaltNot, also appearing are Combichrist, Ego Likeness, Assemblage 23, Stromkern, Freezepop, Spahn Ranch, Leather Strip, Dismantled, Chemlab, Gencab, FleshField, The Azoic, and many others. Iris appears on the compilation as well, with an exclusive remix of "Imposter" by ThouShaltNot. You can read more about this amazing set and buy it here.
Sunday, February 22, 2009
First of all, a belated thanks to everyone who caught us on tour last summer. The big activity now is that we're waist-deep in making the new album. It looks like we'll be working with a well-known producer on this LP, and though we can't give more details than that, we are very excited to have some outside ears as we put twenty-something songs to tape. We also are most of the way through recording two two songs that will be released on high-profile compilations later this year. "The Haunted Phonograph" is a huge steampunk smash of a song, coming out on Proekt Records's second Dark Cabaret CD, and "Sick" is a ballad that will be appearing on a cancer benefit CD.

Also, we're down to our last ten t-shirts, and when they are gone, the will be gone! Snag one for yourself on our product page.
Saturday, July 26, 2008
Tour is going brilliantly. We are keeping a sporadic poor excuse for a journal over at http://tsn_official.livejournal.com. Because sales of New World have been so fast, we are taking down the order links from our sites. This means that the the limited edition EP will only be available for purchase at the remaining shows of our tour. In the unlikely event that any copies remain after the tour, we will let you know.
Sunday, July 6, 2008
THOUSHALTNOT - NEW EP AND TOUR

On July 16, ThouShaltNot, one of America's top goth bands, will be releasing a new EP, NEW WORLD, and will begin their first national tour in over three years!

Tour dates are as follows:
July 16 Cleveland @ The Phantasy (w/ Filament 38)

July 17 Chicago @ Spin Nightclub (hosted by Die Maschine)

July 18 Minneapolis @ Ground Zero (hosted by The Next Element)

July 19 Billings @ The Perk (Perkapalooza)

July 21 Seattle @ El Corazon

July 23 Salt Lake City @ Club Vegas
July 25 Albuquerque @ The Agency

July 27 El Paso @ Soho Lounge (hosted by Sunday Mass)

July 29 Nashville @ The Rutledge

July 31 Cincinnati @ The Dock (w/ Hungry Lucy)

August 1 Baltimore @ Club Orpheus

August 2 Boston @ O'Brien's

August 3 Pittsburgh @ Club Pegasus (w/ The Dark Clan)
We'll be putting up more club info and links as soon as we can. As for the new EP, we're very proud to present six all-new tracks, ThouShaltNot's first official release since 2006's Land Dispute. The release is something of a return to the more electronic dance rhythms that brought ThouShaltNot to attention on albums like The White Beyond and The Holiness of Now. While there are still moments of the emotional rawness and guitar-driven complexity of Land Dispute on new recordings like "State Road 25" and "A Space Between," songs such as "New World" and the sublime "April, We Can Break Through If We Try" are nothing short of epic synthpop anthems. Also included on the release is ThouShaltNot's venerable cover of U2's "Who's Gonna Ride Your Wild Horses?"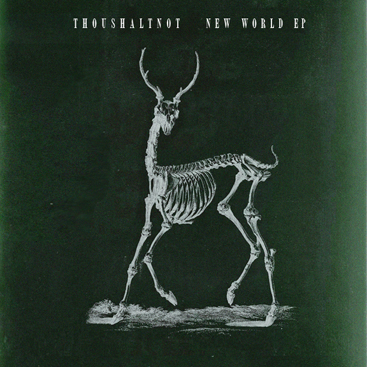 New World EP
1. New Year
2. April We Can Break Through If We Try
3. Who's Gonna Ride Your Wild Horses?
4. State Road 25
5. A Space Between
6. New World
New World is being given an EXTREMELY limited press run of 200 hand numbered and signed CDs, which will be sold exclusively through mail order and on ThouShaltNot's 2008 summer tour. We will not re-press it, and while a song or two from the release might find its way onto ThouShaltNot's upcoming full-length album, you will not hear most of these tracks anywhere else again.
We'll be revamping the site soon. In the meantime, stop by our MySpace page to hear some of the new material.
Monday, December 31, 2007
This is a last minute reminder to beg, borrow, or steal (but probably buy) tickets for our concert this Saturday with synthpop legends Information Society.

Saturday, January 5, 2008 in Philadelphia at The Trocadero Theatre

Metropolis Records artist Cesium 137 will be opening the show. If you are not familiar with Information Society, get to learning, kiddo. Their giant hits like "What's On Your Mind? (Pure Energy)," "Think," and "Peace and Love, Inc." helped to define the entire genre of synthpop. This is ThouShaltNot's first performance in over a year, and will feature several new, unreleased songs.

We've also been steadily working toward the completion of a new record. Songs written since the last update include "Search Party," "Fire," and "Sixty Times."
Monday, August 27, 2007
Thanks for bearing with us during this last year of near-silence. Rest assured, the band still exists and has been writing new material and working on the live show. That said, we have indeed been slowed down by some relocations on band members, but we are confident that when we get out to play more shows and when we release the new material we're crafting, it will have been worth the wait.
Some song titles at this point include:

A Safer World
Bayonette
Sick
Noah v1.0
State Road 25
Everything Could Change
Unresolved
Convincing
We've also gotten around to recording our cover of "Who's Gonna Ride Your Wild Horses," which will hopefully find somewhere to go. In the meantime, we'll be making public our remix kit so that you can get your hands on manipulating, tweaking, and reinventing our music yourself. Until then, highest hopes.
Thursday, July 6, 2006
Response to Land Dispute has been wonderful. We'll post some reviews in the very near future, but in the meantime, thanks to all who came out to our concerts in Pittsburgh and Washington, DC. We've got two more shows lined up, the first of which is in just two days!
Saturday, July 8 in Charlottesville with Bella Morte and Synthetic Division at the Outback Lodge.

Saturday, September 2 in Philadelphia with Absurd Minds, at Club Shampoo
We are also lining up some Texas dates, so keep your eyes open.
In other news, our remix of Stromkern's "Reminders" is now out on the single of the same name. We gave their EBM song a jangly guitar-driven kick in the teeth and we think you'll like it.
Tuesday, May 23, 2006
Land Dispute is out today! Two and a half years went into making this album and we are confident that it has paid off. If your local record stores don't carry it, ask them to! In the meantime, you can order it at Isotank or at Amazon.com. We depend on record sales to keep the band going, and no matter what notions you may have of rockstar decadence, they are a myth when it comes to independent labels and acts like Dancing Ferret Discs and ThouShaltNot, so we very much appreciate your purchasing Land Dispute legitimately.

We're also revamping the web site slightly. Though it's still a work in progress, do please take a look around!
Tuesday, April 18, 2006
Our fourth studio album, Land Dispute, will be released worldwide on May 23 through Dancing Ferret Discs. A dramatically more urgent offering than our previous records, Land Dispute is bold, honest, and immediate. The track listing is as follows:
Land Dispute

1 When I Crash
2 Walk Away
3 Crawling Deeper
4 Oh Invisible
5 React
6 All That's Left
7 A Dream
8 The Projectionist
9 Like Apple Trees
10 Trains
11 Let Your Silence Sing

Included also on the album is a four track addendum of additional material (just as good, we promise -- merely intended to be taken separately!):

12 Count To Ten
13 True Love
14 Breathing Like A Fish
15 Reborn

For those of you looking for a taste of what our new music sounds like, our myspace page, this site's sound page, and Asleep By Dawn's Myspace site all have clips available. However, if you want to hear the music in person, we'll be playing a slew of shows across the continent this summer, our first concerts in nearly a year! The first two that we're announcing are:


SUNDAY, MAY 28: PITTSBURGH, with Bella Morte & Chuck Owsten, at the Oakland Cafe (all ages)
TUESDAY, JULY 4: WASHINGTON DC, "Freaks United V" at Nation (18+)


We'll be announcing many more shows in the coming few weeks. If you would like for us to play in your city, drop us a line and we'll do what we can. If you are a promoter, all the better! In the meantime, we're also very excited to be part of another excellent project...

On July 18, Dancing Ferret Discs will "Where's Neil When You Need Him?", a fully authorized and official collaborative between Neil Gaiman (New York Times #1 Best-seller, top comic book writer of Sandman, award-winning screenplay author) and some very big name musicians. Neil Gaiman was involved in the project from the start and wrote the liner notes for the CD. Longtime collaborator Dave McKean handled all of the artwork, and My Chemical Romance frontman Gerard Way is writing the introduction. (Since we've been asked already, we should point out that Neil doesn't actually sing on the CD).

Like Neil's writing, the material on this disc is very diverse in both source material and musical styles. Naturally The Sandman series is well represented, but there are also songs about Stardust, Neverwhere, American Gods, Coraline, The Day I Swapped My Dad for Two Goldfish, Mr. Punch, Wolves in the Walls, The Goldfish Pool, and Mirror Mask. All tracks are exclusive, not available anywhere else:
1 Rasputina - Coraline
2 ThouShaltNot - When Everyone Forgets
3 Tapping The Vein - Trader Boy
4 Lunascape - Raven Star
5 Deine Lakaien - A Fish Called Prince
6 Thea Gilmore - Even Gods Do
7 Rose Berlin (feat. Curve) - Coraline
8 Schandmaul - Magdas Maerchen
9 Hungry Lucy - We Won't Go
10 Voltaire w/The Oddz - Come Sweet Death
11 Future Bible Heroes - Mr. Punch
12 Razed in Black - The Endless
13 The Cruxshadows - Wake the White Queen
14 Ego Likeness - You Better Leave the Stars Alone
15 Azam Ali - The Cold Black Key
16 Joachim Witt - Vandemar
17 Tori Amos - Sister Named Desire (New Version)
Finally, for those of you who just can't wait until May 23rd to hear and own some of the new material (and NO, we haven't forgotten those of you who pre-ordered the album last year!), we are offering the following CDs for just $5 apiece (+$1 each for shipping):

* The Projectionist EP (7 tracks including new and exclusive tracks, remixes, and live cuts)
* Dark Cabaret (comp. featuring "True Love" and songs by the Dresden Dolls, Black Tape for a Blue Girl, etc.)

and you can order Land Dispute from us for $10 (+$1 shipping), which is the best way to ensure that we actually eat. Just PayPal.com to this address (alexx@thoushalt.net) and I'll send the CDs off to you right away.
For older news, see our News Archive.